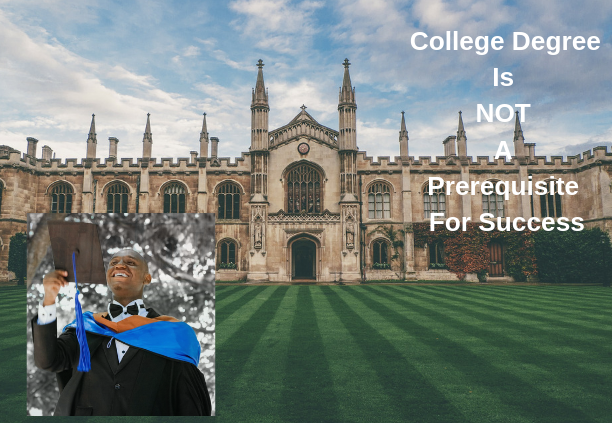 Let's face it, life as an immigrant is hard. To succeed, you'd have to go the extra mile and do the things others are not willing to do.

If you're from the average African home, you've probably been fed with the college (or University) tale.

Go to school, study hard, get a good grade, find a good job, and settle down.

Simple! Isn't it?

Only if life were that simple, we all would be riding a private jet.

If you're still in your teenage years, you may want to consider some things before delving into the labor market.

The world is changing. And if you want to make meaningful progress, you must be prepared to evolve with it.

In this day and age, if you want to create wealth, all you need is the right information, a marketable skill, and an entrepreneurial mindset.

Don't get it wrong, having a college degree is good, but it's not the only path to a successful life.

Over the years, we've seen immigrants who have built revolutionizing businesses in the United States without a college degree — you could be next.

If you want to change your world without a college degree, here are four things to do.

1. Start A Side Hustle And Build It Into A Full-Time Business

Individuals with an entrepreneurial mindset are most likely to change the world.

Think of Facebook, Microsoft, Apples, Google, or any other mega business today; you'd see one thing in common — ordinary folks like you built these businesses.

Here's the catch…

You've got to have a marketable skill and be willing to build a business around it.

Yes, we are in the internet era. And several other technological advancements like blockchain and Artificial intelligence are upon us.

However, you don't need to be tech-savvy to succeed.

Heck, all you may need is the fundamental knowledge on how to operate a mobile phone or a computer — I guess you can do these things. Right?

With a personal computer and a stable internet connection, you can build a good business from the comfort of your home.

The point is, to build a business, you'd need to learn a trade and develop the right mindset.

2. Take An Online Course

If you want to build an attractive resume without a college degree, then online classes may be the right fit for you.

With just a few hundred dollars, you could obtain university-level certificates from online learning platforms like Coursera and EdX.

Aside from the affordable certificates you'd get, you can also get a quality education for free.

Furthermore, you can learn marketable skills from YouTube videos and other resources all over the internet.

Although you may face some level of discrimination with an online certificate, it's a great alternative to a college degree.

3. Volunteer

Volunteering is a great way to start as an immigrant. By volunteering, you'd get exposure and build a network of people who may come in handy at the time of need.

Also, volunteering can help you test the waters and help you to build more skills.

What's more, it's an avenue for character building and self-development.

4. Take Any Job

If you're coming into the United States for the first time, you should do yourself a favor by applying for any available vacancy.

At this stage, you'd need something to foot the bills. And any available job can do just that.

Simple acts of diligence, showing up early, and respecting your coworkers can go a long way to help you climb up the chain.

It may sound simple, but these little things are in high demand in the workplace.

Furthermore, you can use your savings from the job to go back to school.

Take any job and grow from there!

Having a college degree is okay — there's no crime in it.

However, the path to the dream life is hard. And you'd need more than a piece of paper from college.

You can start by building a side hustle, taking an online course, and volunteering for a notable organization of your choice.

Also, there is no harm in taking any available job — you'd need to pay the bills.

What steps would you take today to build a better life for you and your family?