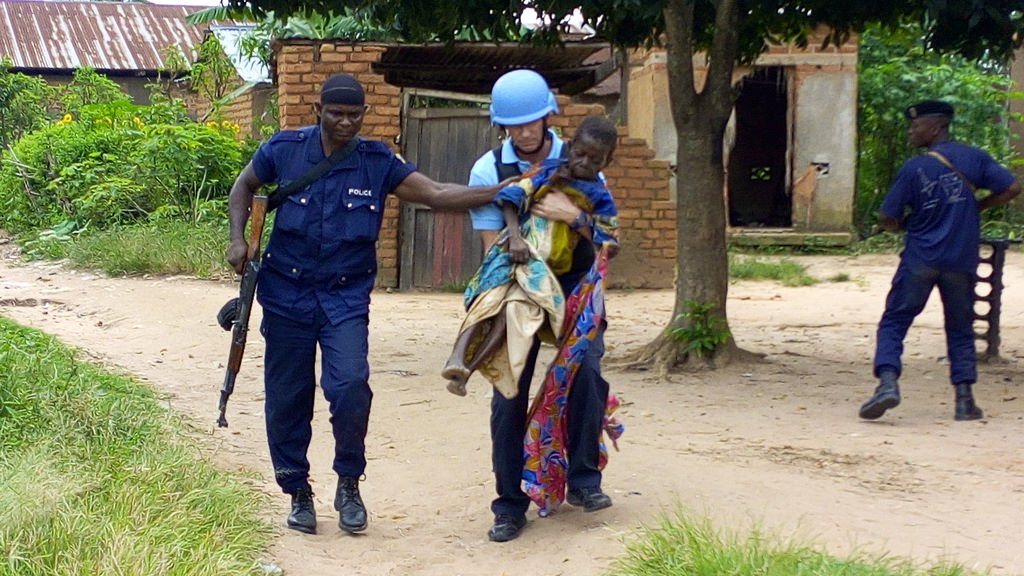 December 14, 2017
By Staff, "The Gist"
According to the World Food Program, 250,000 children, in the Democratic Republic of the Congo (DRCongo), will die if they don't receive food aid urgently!
Located in the center of the country, with lands rich with diamonds, yet lacking infrastructure and ravaged by violence, Kasai needs help. The population has an immediate need for food to avoid a famine. The people also need urgent medical assistance for the victims of violence and diseases. In addition to the wounded, cholera has been spreading.
KASAI CRISIS
The intensity of violence assailing the Congolese population is unparalleled on our planet.
Throughout the country, there are 4 million displaced persons. This figure tops 1.4 million in Kasai, according to the UN Office for the Coordination of Humanitarian Affairs. The violence and humanitarian crisis in Kasai particularly affects women and children. Over a million of them are directly exposed to famine. Moreover, Doctors Without Borders states that "the Kasai crisis been completely neglected".
One year on, the violence is subsiding. But, the population has gone from extreme poverty to extreme humanitarian emergency. Since the beginning of 2017, the number of people displaced because of violence has doubled from 2 million to 4 million, according to the refugee agency, UNHCR. The time to launch a major humanitarian operation has come, for which the DR Congo, weakened and battered by a severe economic crisis, is not able to fund.
2017 HUMANITARIAN RESPONSE PLAN
Over $10 billion worth of copper & cobalt are mined in the country every year for export. However, according to Global Witness, only 6% of the total value of mining exports reaches the national budget. So how can you explain to the Congolese people that the international community is incapable of raising $812 million for the 2017 Humanitarian Response Plan for the DRCongo?
The time has come to call for world solidarity and the generosity of the international community to mobilize urgent humanitarian aid to DRCongo and rescue a population in distress.
CALL FOR HELP
The former prime minister of the DRCongo, Samy Badibanga, joined the Protestant and Catholic churches in the Central African nation, to issue an appeal to the international community for an international donor conference for Kasai.
"A humanitarian operation in Kasai is necessary to put an end to a tragic humanitarian situation. We must put aside the question of the elections and stop looking at the (DR) Congo merely for its mineral wealth. The violence, insecurity and indiscriminate massacres that are terrorizing the population mean that international action in the Congo must be reviewed in full. There is large-scale abuse of basic human rights."
Badibanga continues, "urgent humanitarian action is required to bring at least food and medical assistance. Given the cruel lack of resources resulting from a neglected crisis, we need an international donor conference. The Democratic Republic of Congo is Africa's 2nd most populous country with nearly 100 million inhabitants."
CASH FOR WORK
In addition to urgent aid, "cash for work" operations can help people to recover their dignity and provide subsistence while improving, for example, local access roads, which are crucial for reviving agriculture. This is also the best way of preventing unemployed youth living in extreme poverty from being lured into armed conflicts.
It is reported that 77 people escape extreme poverty in Asia every minute, meanwhile, every minute in DRCongo 3.6 people fall into extreme poverty.
"Achieving the sustainable development goals is a particularly ambitious objective in central Africa, where the DRC is the largest country with a forecast population of 120 million in 2030. How can Africa hope to achieve any sustainable development goals if the DRC is unable to do so? How can a population focus on climate change with no food, work or roofs to sleep under after attacks have ravaged their villages?" said former PM Badibanga.
"In this 21st century, the international community knows how to mobilize itself to come to the aid of a population in distress. And it is to that community that this urgent humanitarian appeal for an international donor conference for Kasai is addressed."
---
The perspectives of our community matter in media! It's about our voice,  and taking control of our narratives. Please join and support us!
Visit AfroGist Media channels  often for news updates. Access other thoughts and analyses here, reach out to post your commentaries, and feature your platform.  Watch shows, and participate in crucial conversations that concern us. Connect with the community.