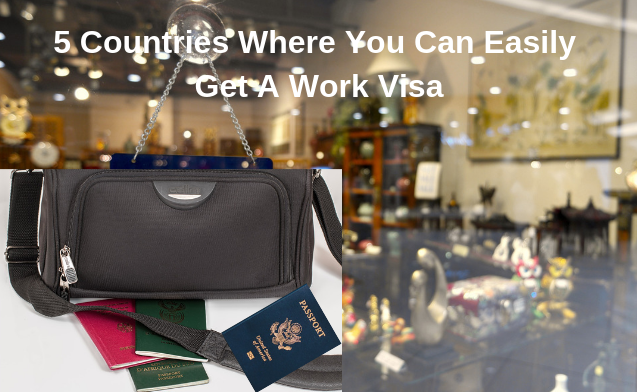 Working abroad is the new goldmine. Nowadays, everyone wants to travel out in search of greener pasture and a place to have a fresh start.

There's no doubt about it — traveling is fun. And what's more intriguing is the freedom to recreate your life and pursue your dreams in a more favorable environment.

Every year, millions of people from African migrate into other regions — and if you're among those who'd love to leave the shores of Africa for a better life in the West, then you'd probably want to know the best places to live in.

Work permits and work visas are one of the best ways of securing a place in a foreign land. With it, you can quickly work out your residency.

However, if you're self-employed or you'd want to move into another country without any form of corporate support, then you should be ready to go through the hassle that comes with it.

Before we unveil the list of countries where you can quickly get a work visa, here are a few things you should know.

1. Get a passport — not just any kind of passport, but one that would last for the next few years.

2. Be financially independent. Most foreign countries won't allow individuals who are not economically stable in their nation.

Why?

Because they only need people who'd create economic value. You've got to show that you're able to fend yourself and provide for your fundamental needs.

Furthermore, if you're young (30 or 35 years max), you stand a pretty good chance of getting a work visa from a foreign country.

In cases where you're not offered a work visa, you can opt for a holiday visa.

5 Countries Where You Can Easily Get A Work Visa

1. Cambodia

Cambodia remains one of the best places where you can easily apply for a business visa and get accepted without any hassle.

Here's the catch — when you apply for a business visa, you can renew your document without having corporate support.

The downside?

The business visa is just a fancy name, and you're not permitted to work with it.

However, you can easily apply for a work permit if you intend to work in the country.

The Australian work visa is relatively easy to get. But before you delve into it, you should have a substantial amount of money and enough funds to repurchase your ticket back home.

If you've got a certificate in a professional course like engineering, then the land of Australia would be a good fit for you.

3. Germany

Are you a freelancer? Or are you into any form of arts? Germany is the right place for you.

The thing is — applying for the German permit is not a walk in the park.

You've got to be fully prepared!

Freelancers can get an artist visa in the city of Berlin and establish themselves as self-employed residents.

The process is not as easy as you'd have to go through the hassle of documentation, providing your business plan, authenticating your health insurance, and lots of other documentation.

4. Netherlands

The Netherlands is an ideal place for entrepreneurs and innovators who are looking for ways of creating new products and jobs.

You can apply for a residency, move in, demonstrate your worth, and build your dream life without any form of hassle.

5. Ireland

There are no age limits for immigrants coming into Ireland. But you've got to enroll into an undergraduate or graduate program before you're accepted.

Also, you've got to have a substantial amount of money and be able to cater to your needs in the country.

If you're unable to meet these requirements, you can also apply — but the general work permit application process is more vigorous, and it's more challenging to get in through this process.

Other Options?

You can go back to school and apply as a student — it's easier to get into a European country as a foreign student.