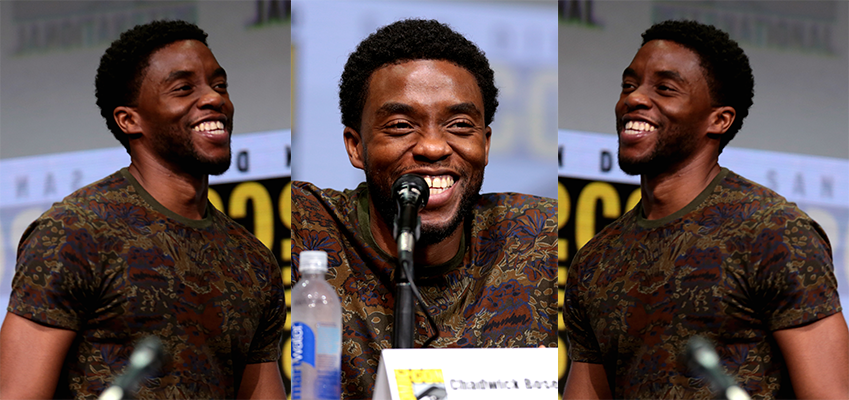 On Friday 28th August 2020, Chadwick Boseman, star of the disruptive Black Panther movie, passed away. The 43-year-old American actor bravely but unsuccessfully battled with colon cancer for four years. The last message from his twitter account was written by his family who confirmed Chadwick's passing. This message has now become the most liked tweet in all of Twitter's history.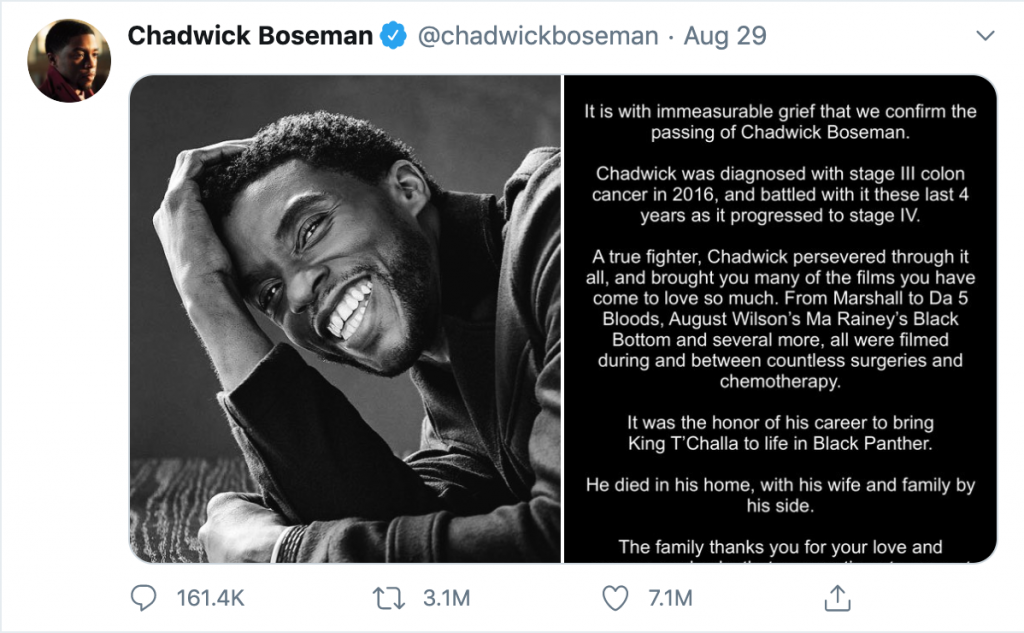 His Health
The statement from his family reads
"Chadwick was diagnosed with stage III colon cancer in 2016, and battled with it these last 4 years as it progressed to stage IV."
Colon cancer or colorectal cancer starts in the large intestine and affects the digestive tract. This cancer is more common in elderly persons but can occur in people of all ages. When the figures for men and women are combined, colorectal cancer is the second most deadly cancer in America. This ugly disease is becoming increasingly rampant in young adults all over America. It is also very prevalent amongst the black community. In the wake of the actors' death, the Colorectal Cancer Alliance made a public plea encouraging open conversations on the topic.
YOU MAY ALSO LIKE: 6 Immune Booster Herbs and Fruits You Need Right Now
Chadwick Boseman In The Face Of His Declining Health
This is the illness that Chadwick fought for many years, emaciating over time as he did so. A few months before his death, Chadwick posted a video on social media in which he appeared very thin. He received a lot of bashing on his look from fans all over the world. What they didn't know is that the actor was in a serious battle for his life and was probably preparing for his final days. It was a truly heroic move for him to have kept the status of his health a secret, shielding the world from feeling pity for him before he left. Even in sickness, Chadwick continued to work on some epic movies. The statement from his family reads
"A true fighter, Chadwick persevered through it all and brought you many of the films you have come to love so much. From Marshalls to Da 5 Bloods, August Wilson's Ma Rainey's Black Bottom, and several more, all were filmed during and between countless surgeries and chemotherapy."
YOU MAY ALSO LIKE: The Sun Is Out, Sunscreen Is In: Skin Cancer Prevention in the Black Community
His family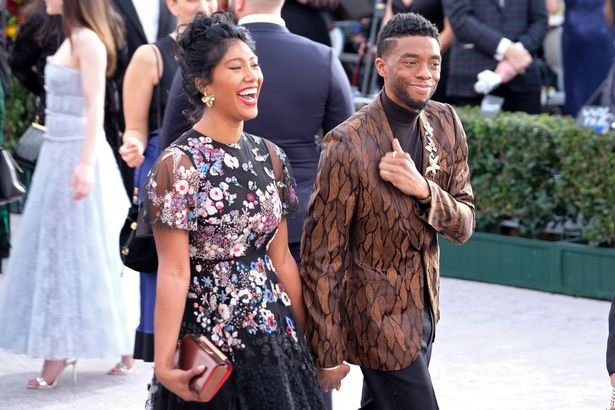 Chadwick Boseman was lovingly surrounded by his close family in his final days and hours. His wife and loved ones were by his side when he passed away in Los Angeles. Because Chadwick was always very quiet about his family and private life, not many people knew he was married. After dating for years, he and Taylor Simone Ledward were engaged in 2019. It is believed the couple was secretly married in a private ceremony mere months before the actors passing. Simone, a trained singer, is said to have started a relationship with the Hollywood star around 2015. However, she was not often pictured in public with him. On one of their few red carpet nights together, the actor openly acknowledged Simone as he accepted an award as Outstanding Actor for the Black Panther movie.
Chadwick Boseman's Work
Chadwick Aaron Boseman was born in South Carolina on 29th November 1976. He performed excellently in education as a director and writer including when he passed through the Digital Film Academy in New York and the British American Drama Academy in London. Chadwick's first on-screen appearance was in 2003 but his work had the most impact in the last five years starting in 2013 when he portrayed black icons like James Brown in Get On Up and Jackie Robinson in 42. His 2018 role as King T'challa in Black Panther resonated most profoundly amongst avid fans all around the world. Some of his other profound movies include Avengers: Infinity War, Avengers: End Game, and 21 Bridges. A lot of the hero's career amplified black history and culture in many ways.
Impact On The Black Community
In his roles, he acted as a channel to the past, preserving the lives and challenges of African-Americans. He also represented the promise and brightness of tomorrow in his acting. Chadwick's unfulfilled potential will be thoroughly missed throughout Hollywood and the world at large. Robert Iger, Chairman of the Board at The Walt Disney Company put it best when he said
"He brought enormous strength, dignity, and depth to his groundbreaking role of Black Panther; shattering myths and stereotypes, becoming a long-awaited hero to millions around the world, and inspiring us all to dream bigger and demand more than the status quo. We mourn all that he was, as well as everything he was destined to become."
RELATED: What "Black Panther" Means For The African Diaspora
Tributes To A True Hero
In the wake of Chadwick Boseman's shocking death, tributes have poured in from all over the world. Politicians, celebrities, and fans have mourned the actors passing in many touching ways. Many recall his last appearances in pediatric hospitals. Popular personalities like Kamala Harris, Barack Obama, John Legend, Lewis Hamilton, Oprah Winfrey, Chris Evans, and The Los Angeles Lakers have honored the Black Panther star with heartfelt tributes.