There are a multitude of anxieties when you're a beginner going natural! Protective hairstyles on 4c hair Do you do the big chop? Do you just learn to trim your ends? Do you go straight for getting box braids? So many questions, and no real guide! 
Well, let's start with the fact that every woman's natural hair journey is different! Learning your hair type is an essential first step, and learning to also stray away from mainstream standards of beauty is another. Seeing huge curly afros, or super long fros is the new norm and poster child of the natural hair movement. Yet, 4C hair gets a bad rep for being a drier texture.
4C hair is just as beautiful, versatile and unique!
Make sure to use proper oils and desired products that suit your hair, since no one knows it better than you do. Also, don't be afraid to expand and experiment if possible with other hot oil treatments or deep conditioning products or DIY recipes. Just make sure all products or DIY recipes are safe to create and use.
Here are just a few all year round protective styles for both long and short 4C hair!
Bantu Knots/ Knot Out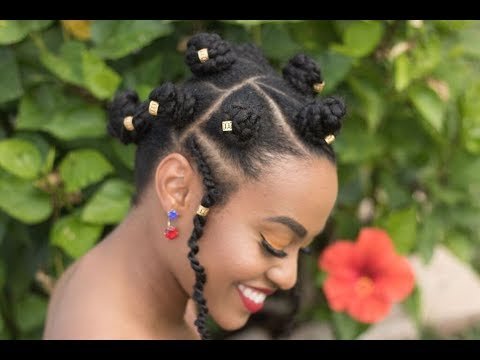 The more knots, the more curls! Bantu knots have held a defined look in West African and Black culture for a long time! It is important when doing these knots that you allow your hair a decent amount of time to dry after washing to prevent breakage.
Using hot oil treatment of olive oil, coconut oil, black castor oil, tea tree oil, or whatever combination of oils works best for your hair should be used before getting started on your knots. When taking out bantu knots it's important to tease through it so you can define how big or small you want your fro to be!
Twists or Braids
Since twist or braids can be left in for longer periods of time(4-6 weeks, or 6-8 months) if kept up properly, making sure your roots stay healthy is key! Using coconut oil or flaxseed gel to help with moisturization and locking in your natural curl/coil pattern is essential to elongating or shrinkage depending on the style you're trying to achieve with your hair.
Locking in moisture without build up is essential to keeping your hair healthy from the scalp up! Notorious box braids, or mini twists are both great ways to get started on protecting your natural hair.
Add some ombre coloring, or make those long braids into bobs and you'll feel more comfortable in your glamour!
Tuck and Roll
This style really shows off the versatility of 4C hair. Similar to 50s pin up hairstyles, you are simply tucking selected parts of your hair and rolling them into a bun, bump, or puff to your liking! A tail comb, moisturization products, rubber bands, and hair pains are necessary for this style.
With this style your hair can elongate at some ends, while maintaining some curling and coiling patterns in the roll and tucks themselves. It also looks fantastic when you add a cute headband, scarf, or flower as a finishing touch. This style suits many during the winter time when you need a quick but warm do to go.
These are just a handful of some healthy and useful ways to protective hairstyles on 4c hair while also letting it's natural quality shine through a variety of tricks, and eccentric styles! 
If you like these styles then check out some helpful products for hair moisturization. Let us know in the comments what hairstyles rocks your world when you try it!