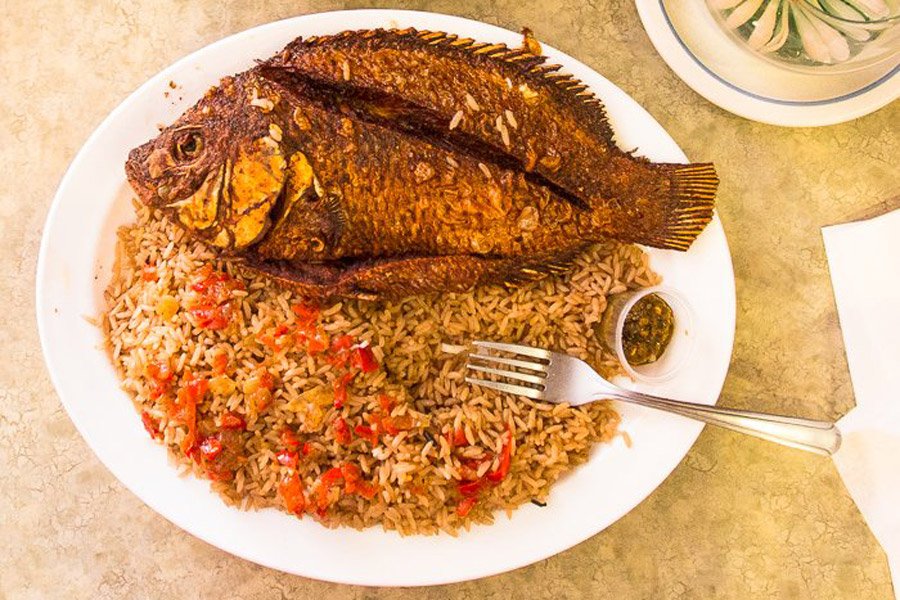 If you're a foodie like me, then you've probably discovered that one of the most challenging parts of moving to the states was having to adapt to the food here. Unlike African food, American food over the years has become increasingly processed and artificial. The food industry has become a monopolized, money-hungry giant that cares more about mass-production than the nutritional quality of its products.
Which is why I made it my mission to find the best African restaurants in New York City that could replicate my favorite West African dishes. Having lived in Cameroon and Senegal, I was already accustomed to eating home-cooked meals featuring locally available and fresh ingredients, and having to transition to Chipotle everyday was just not going to cut it.  
So if you live in New York City, then look no further than this list. And of course, I couldn't discriminate and only feature West African food. These restaurants run the gamut from Senegalese cuisine to Ethiopian delicacies. You can thank me later.
1. Ponty Bistro
If you love Senegalese cuisine, then you'll be pleasantly surprised by Ponty Bistro, a restaurant that features a fusion of Senegalese and French dishes. With locations in Harlem and the East Village, their menu features Senegalese favorites including Poisson and Poulet Yassa, both complete with a side of plantains and rice. Just be warned, however, that the prices are definitely not the same as back home…
Address: 2375 Adam Clayton Powell Blvd, New York, NY 10030
2. New Ivoire
https://www.instagram.com/p/BUfHjoqAh3b/?taken-at=6490518
Having a mother who hails from Cote D'Ivoire, I grew up occasionally eating takeout from this restaurant. While not as boujee as Ponty Bistro (the location is pretty much a hole in the wall), New Ivoire is definitely the most authentic Ivorian restaurant that I've come across in New York City. Their menu features attiéké, grilled fish, pepper soup, and an Ivorian take on Jollof rice.
Address: 76 E 119th St, New York, NY 10035
3. DF Nigerian Food Truck
After seeing this place on several delivery service apps including Postmates and Grubhub, I had to see what the hype was about. As you can probably tell by the name, this restaurant isn't actually a restaurant but a food truck. Their menu hosts Nigerian favorites including Suya, Jollof Rice, and pepper soup with goat meat. If they can't deliver to your location, you can find them posted up in front of the Nigerian Embassy Monday through Friday.
Address: 828 2nd Ave, New York, NY 10017b/t 44th St & 45th St
4. Accra
Another Harlem favorite, Accra's menu boasts a wide array of Ghanaian dishes. You can find peanut soup, Suya, and a dinner special of fufu with any soup and meat of your choice on their menu. And don't worry, their prices are also easy on the wallet.
Address: 2065 Adam Clayton Powell Jr Blvd, New York, NY 10027
5. Injera
If you're vegetarian or vegan, then Ethiopian food is definitely your best bet for eating dishes from the motherland that don't contain meat. Injera is perhaps the most well-known restaurant on this list, having accrued a solid reputation for their savory and flavorful dishes. You'll find a variety of Ethiopian staples on their menu, including Doro Wot, Misir Wot, and Beg Alicha. This restaurant is also a great option if you're looking for a large family-style dinner to share with others.
Address: 11 Abingdon Square, New York, NY 10014
---
The perspectives of our community matter in media! It's about our voice,  and taking control of our narratives. Please join and support us!
Visit AfroGist Media channels  often for news updates. Access other thoughts and analyses here, reach out to post your commentaries, and feature your platform.  Watch shows, and participate in crucial conversations that concern us. Connect with the community.