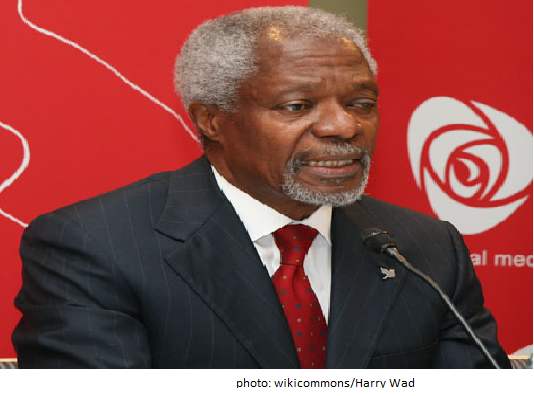 Kofi Annan was born on April 1938 in Kumasi Ghana in a family of traditional rulers. His uncle and grandfather were Tribal chiefs while his father served as a provincial governor. He attended an Elite Mfantsipim school where he later enrolled in a national university where he studied Economics and later went to study in the US on a Ford Foundation scholarship. Upon completion of his studies, he served at the World Health Organization (WHO) and later joined the UN in 1962.
After working at the United Nations as a local staff for a while, Kofi Atta Annan was appointed to the post-Secretary General. He worked as the 7th Secretary-General to the UN from 1997 to 2006. Together with the UN, Annan won the 2001 Nobel Peace Prize due to his efforts to a well-organized and a peaceful world.
Kofi Annan has proven to the whole world that he has strong and courageous leadership skills. This is evident from his revolutionary work at the UN while serving as a Secretary-General, to his role as the founder and chairman of the Elders and beyond. While working at the top office in UN, he launched the Millennium Development Goals. He always encouraged people to make the world a better place for everyone. He noted that this will be achieved through extreme poverty eradication and the protection of human rights.  While working at the UN, he transformed and improved the world in numerous ways. For instance, he reformed the human rights system of the UN by creating a modern human rights council. He focused passionately on peace and security while ensuring that every country that is a member of the UN took the initiative to protect the doctrine.
Annan strengthened his role as a Secretary General at the UN in peaceful settling dispute, and he almost managed to secure a settlement in Cyprus. After he retired, Annan didn't stop serving the UN as he was appointed in the post of a special convey on Syrian crisis and chair of the advisory commission on Rakhine State. The commission played a vital role in uploading peace in the region in many ways.
Annan was a leader who dedicated his whole life to serving humanity, as he advocated for good leadership and peace wherever he went. He devoted his life to fighting poverty, promoting gender equality and combating for human rights. After his retirement, he continued his role on African issues, human rights, effects of global warming and governance issues.
Major works
While serving as the Secretary General of the UN, he established a world's largest initiative that promoted corporate social responsibility in 1999 called Global Compact.
He took the HIV/AIDS epidemic as his priority. In 2001, he proposed an allocation of Global AIDS and Health Fund to assist third world countries in fighting the crisis.
After terrorist attacked the US in September 2001, Annan played a significant role in motivating the General Assembly and the Security Council to do something in fighting terrorism.
Final word
Kofi Annan was one of the most influential men in the world who played a vital role in several key events in his whole life. He died at the age of 80. His death was a big loss not only to Africa but also UN and the world. Throughout his working history, he left a legacy which is worth celebrating.
---
The perspectives of our community matter in media! It's about our voice,  and taking control of our narratives. Please join and support us!
Visit AfroGist Media channels  often for news updates. Access other thoughts and analyses here, reach out to post your commentaries, and feature your platform.  Watch shows, and participate in crucial conversations that concern us. Connect with the community.