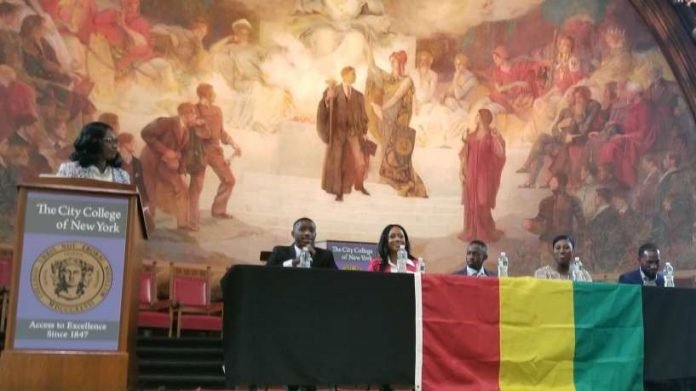 At City College, on a stage adorned by Edwin Howland Blashfield mural, The Graduate, stood the Guineans Succeeding in America (GSA) leaders and their guest speakers to once again breathe success into their fellow Guinean Americans who came from various community and student organizations around the New York Tri-State area to attend the 4th annual conference.
The event was moderated by a renowned journalist from the African community, Ms. Madina Toure.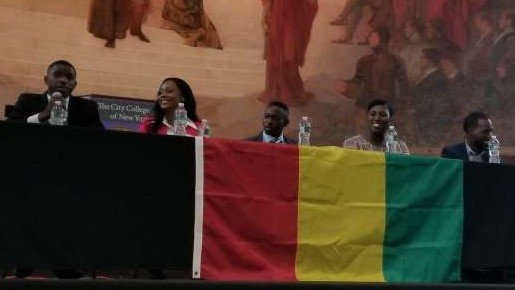 A forum organized yearly in New York City, GSA features young Guineans from various community organizations including student clubs in colleges and Universities. Their work mostly showcases successful Guineans, and promotes the network of Guineans in America. Their dedication to seeing continued success of their Guinean community both at home and abroad is laudable.
African immigrants, particularly the first generation, rely on the network of groups like this to better understand their community and how it sits within the larger US ethnic groups. More importantly, a gathering like GSA supports the building of that social capital needed to navigate around the complex system of race, identity, and success in the United States.
If you need a stage you need a coalition, and GSA organization is a platform that is key in building a larger African immigrants coalition in the United States.
Gracing the occasion were community leaders, elected officials and entrepreneurs from the African community who did not only attend , but also took time to offer inspiration, guides and support.
Assemblyman Charles Fall (NY, Staten Island, NorthShore), Dr. Abdourahmane Diallo, Guinea's former Minister of Health, Dr. Alseny Blade, owner of Medcare Urgent Care, Mr. Muhammad Mardah, Chairman of the Bronx Borough African Advisory Council, Victoria Olani-Oyaniran, CEO of AfroGist Media, Inc, and many others were in attendance.  
---
The perspectives of our community matter in media! It's about our voice,  and taking control of our narratives. Please join and support us!
Visit AfroGist Media channels  often for news updates. Access other thoughts and analyses here, reach out to post your commentaries, and feature your platform.  Watch shows, and participate in crucial conversations that concern us. Connect with the community.