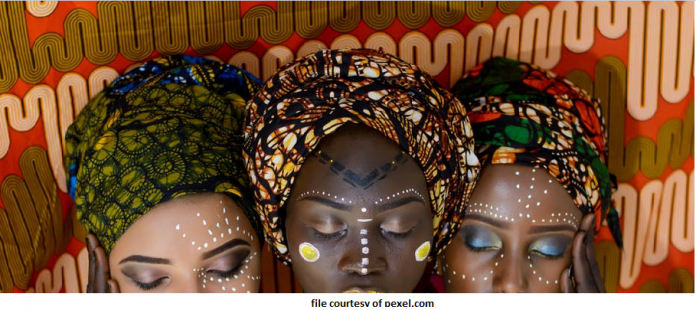 There are some days you will wake up late or run out of time to visit your hairdresser, and your hair doesn't look at its best. When you find yourself caught up in such situations, there is no need to panic or pull your hair. African head wraps are a great solution to those bad hair days.
For this round-up, we are going to take you through some of the different styles you can use to wrap your head, and walk out looking stylish. Just take a look!!
Front Roll
This is one of the easiest head rolls that you can make with the African prints. Just like the name suggests, you come up with a roll or a twist at the front part of your head. You just need a long piece of an African print, and then tie it on your whole head starting from the back. At the front, you will have two long pieces which you need to twist together until they become one piece; stiff enough to create a roll.
Side Roll
https://www.instagram.com/p/BkjxZxUhKL0/?taken-by=pallaya_
This is more like the front roll but now twisted and rolled on the side. When you tying this wrap you need to start from side to side.
Front roll and side roll are easy to wrap and are worn with so many styles and designs. They complement almost every kind of dressing.
The bow-tie wrap
It is unique and stylish. If you can form a bow tie with the tie then you can do the same with your head wrap. All you will need is to wrap your head with the African cloth and then design the bowtie at the front. This is one of the head wraps that tend to look more eventful and brings a modern African fashion.
Twist and tuck
https://www.instagram.com/p/BJHt-uUhyBu/?utm_source=ig_embed&utm_campaign=embed_video_watch_again
This is also another classy and fashionable way of wrapping your head. To twist and tuck your head wrap, you need to twist the two parts of the cloth like the front roll. Then wrap the twist around your head and tuck the remaining part. Some people prefer to do it halfway so it becomes a side twist and tuck which also looks gorgeous.
Double Wrap
https://www.instagram.com/p/BPQ5vjRDSU7/?utm_source=ig_embed&utm_campaign=embed_video_watch_again
This is an iconic style. You need to have two fabrics. The first one you will need to roll it up like the front roll, and it does not have to be neat. The second fabric should be small. Place it on the first head wrap and tuck it in so the rolls aren't visible and neither is the first cloth.
The above styles are very efficient to the African women. You do not have to worry about the numerous bad hair days. You just need to buy as many head wraps and know the different styles. If your hair is too thick or you are wearing a protective style you can still use the wraps by ensuring that you first tie your hair into a bun at the center, and then wrap the African print cloth on the sides and style as desired.
There you have it. Try out these styles and let us know which one works best for you.
USAIG is the curator of a centralized community resource for African immigrants and immigrants at large in the United States.  Our work utilizes digital space and other non-traditional tools  to maximize the reach and depth of support. We scan the community for relevant information that guides and supports immigrants survival and success.  
---
The perspectives of our community matter in media! It's about our voice,  and taking control of our narratives. Please join and support us!
Visit AfroGist Media channels  often for news updates. Access other thoughts and analyses here, reach out to post your commentaries, and feature your platform.  Watch shows, and participate in crucial conversations that concern us. Connect with the community.