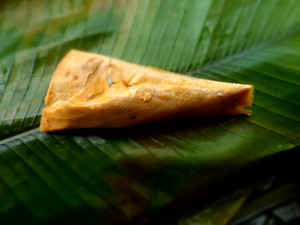 Nigeria is a wealthy nation that offers some of the most nutritious recipes across the globe. One of such rich foods is the Nigerian Moi Moi (Moin Moin).
Moi Moi is prepared with steamed ground beans and some rich Nigerian spices.
The food can be served alone, or you can eat it with Akamu/Ogi (pap), Fried rice, Jollof rice, boiled rice and stew, and any other starchy food you like. The combination is limitless — it can be eaten with most starchy food.
Typically, you can prepare the Moi Moi recipe with Aluminium foil and Moi Moi bowl. Also, the banana leaves serve as a good alternative. You can interchange the banana leaves with the Ewe Eran leaves (Thaumatococcus daniellii).
The main ingredients are beans (or black-eyed pea), fresh ground pepper, onions, and oil.
Other essential ingredients include
Washed Moi Moi leaves. It can be banana leaves or the Ewe Eran leaves.

Peeled Beans. 2-3 cups would be enough.

Boiled Eggs. You can make use of four boiled eggs. And the eggs can be sliced or used as a whole.

Chopped cooked liver.

Salts.

Seasoning or spices. You can make use of Knorr or maggi cubes.

Fresh Shrimps. The shrimps should be deveined.

Red bell pepper (also known as tatashe). You should make use of three. However, if you're a pepper lover, you can add more.

Palm oil.
If you're good with it, you can add tomato puree and corned beef.
Now you've got your ingredients and the relevant materials; it's time to cook and have some fun.
Steps
Get The Beans And Fish Ready:
First, you'd have to wash and drain the beans.
When the beans are properly drained, you will soak the beans in clean water for a few hours. Also, you can leave it overnight to soften.
Boil the fish with salt. Add onions and seasoning to the mix. The boiling should take about five to seven minutes.
Blend Your Beans:
When the beans are properly softened, you'd have to add it into the blender and blend it until it's thoroughly smooth.
During this period, add enough water. You should be careful NOT to make the mixture too thick.
After the blending process, the pureed beans should be poured into a bowl.
Add Colour And More Ingredients:
Aside from the nutritional value of the tatashe red pepper, the red pepper also serves as a natural coloring agent that changes the color of your Moi Moi to red.
Other ingredients to be added into the mixture include ground crayfish, and seasoning (or spices).
By now, you should have melted your palm oil in a microwave. So, you'd have to add some palm oil and stir the mixture until it is homogenous.
Packaging And Cooking:
At this point, you will get your cooking pan, add some water into it, and place it on a heat source. The leaf stalk should be used as a base in the pot. And the water should be added in such a way that the leaf stalk is adequately covered.
Pick up the banana leaves, fold it into a cone shape, and with the aid of a scoop, add some moi moi into it.
You'd have to be sure that the Moi Moi is not leaking from the banana leaves.
Repeat the process until all the banana leaves are filled up with your Moi Moi.
Properly transfer the folded Moi Moi into the pan, add more water, and close tightly until your meal is set.
The meal should be set within fifty minutes. However, the preparation time is dependent on the quantity of Moi Moi you'd be cooking.
Just like many African foods like the mouthwatering Kenyan Mukimo, the Nigerian Moi moi is a significant source of protein and the ingredients like the palm oil is a source of omega 3 fatty acids, vitamin K, and antioxidant.
When the Moi Moi is set, serve it, enjoy your day, and have more fun.
Have you tasted the Nigerian Moi Moi before? Will you be preparing one?
Use the comment section to share your experience with us.
---
The perspectives of our community matter in media! It's about our voice,  and taking control of our narratives. Please join and support us!
Visit AfroGist Media channels  often for news updates. Access other thoughts and analyses here, reach out to post your commentaries, and feature your platform.  Watch shows, and participate in crucial conversations that concern us. Connect with the community.