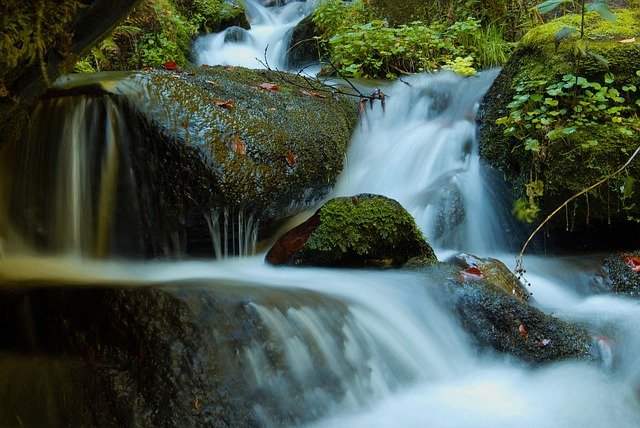 "Cartoon mountain pass symbolizing path of least resistance" by Jeremykemp at English Wikipedia - Transferred from en.wikipedia to Commons by Kelly using CommonsHelper.. Licensed under Public Domain via Commons - https://commons.wikimedia.org/wiki/File:Cartoon_mountain_pass_symbolizing_path_of_least_resistance.png#/media/File:Cartoon_mountain_pass_symbolizing_path_of_least_resistance.png
This week we'll continue to explore voluntary termination, one of the junctions of career start over. Under voluntary termination, we'll take a look at two instances. They are: (1) resigning from a job to relocate with spouse/family and (2) starting a new career to seek fulfillment. One key point we must remember is that when we start over anything in life, it's easier (and in fact, the usual advice is) to leave everything from the past behind. In career start over, however, the job experiences of the past and the talents, skills, ability and character that are already an essential part of who we are can't be left in the past. In most cases, we must get better telling the story of the past to get that newly desired job.
So here are the points I'd suggest when relocating with spouse/family:
-Plan early: The decision to relocate is usually a tough one, but having enough time to plan and act would play to one's advantage.
Take another look at your resume: Revise and update your resume.  Some jobs require transferable skills you could market to a potential employer, and some require distinctive set of skills and experience. Create different versions of resume for each application. Unless you are a CEO or an academic who has published several books and articles, limit your resume to one page.
-Reach out: Depending on your preference, here are the key players you should attempt reaching out to: the employer of your spouse or family member you are moving with, trusted friends and confidants, your boss, members of the board of directors, your company's clients and vendors. (I advise two cautions here. Only do so if the political climate is right and if you won't be breaching company's policies by reaching out to them), your trusted colleagues (make sure they are indeed trusted), and anyone else on your rolodex that could give you gainful leads.
-Do your research and begin submitting applications online. Indicate how excited you feel relocating to that city to work and how that might be an added value you could bring to the table. If and/or you don't think that plays to your advantage, use the address of relatives that would host you temporarily in that city before you settle down at yours. But also know that this won't help where 90 days residency is required.
-Contact staffing agencies in the area to learn their job orders. If you handle the conversation well, your resume might be sitting right in front of their account managers who would be going all the way to find what you are qualified for.
– Know the public workforce agencies and other nonprofit employment centers in the area. If  all other plans fail, you should try these agencies when you finally get to the place.
-Know where the soup kitchens are in the area: I know this might sound somehow, but bear with me; I'm talking about survival here.  It's safe to know which charities are giving food and other donations away in that city. It' s far better that  you have the information and not need it than to need it and not have it. On another note, you could volunteer at one of the centers some days in the week. This endeavor would help you  meet new people, get to know the area, and touch lives at the same time.
Let's look at starting over a career when seeking to do something different-

We all could admit that this idea carries a bigger challenge that requires strong determination, creativity, and a test of faith. The promise of success, however, is not far-fetched if we (i) are not motivated by material rewards, (ii) set realistic goals and expectations, and (iii) value and appreciate incremental results. The journey is difficult, but whether you flow around the rock or you cut through the mountain, you can arrive at that new career.
Here are some thoughts to consider when seeking a new career and fulfillment:

Visualize the end from the beginning-It's important to know the destination. Ask yourself, 'what precisely would I be doing in that new career that will give me that inner glow?'
Sole searching: It is tiring and almost ludicrous if we keep switching from one thing to another. There is an element that signals our lack of engagement in thought process before hand, or that we are afraid of failure, thus running away from it. Sole searching, from the start, helps gauge realistically  whether this new career we are starting over is feasible given resources –talent, skills, ability, time, and money.
Adopt the mindset of an entrepreneur: Here is the truth: anyone who seeks success must pursue risk and stand up straight to failure. In this context, success is seeking what you really love to do and doing it. Look at failure in the eye; dance with it.  Failure is tough, so be tougher.
Gather knowledge: If you are yet to, begin learning all that you could about this field and secure useful contacts along the way. Gathering knowledge includes going to school to learn relevant trade, volunteering to practice what you already know and to hone your skills, joining  professional associations in relevant field to activate peer learning and to network, speaking to mentors about your goals, etc.
Create an open mind: No one learns anything if their minds are shut off. Open your mind to learn from others. Read widely. The world is global, why isn't your mind?
Be creative: This is vital in getting to your destination. To be creative though, you'll need to be inspired, and to be inspired as well as to gain knowledge you'll need an open mind.

Get better in selling yourself: This point is usually  for my job readiness 101 classes, but it's highly applicable here. Elevator pitch, cocktail dinner pitch, and all other pitches must be learned and practiced.
Be bold: If you really want to do it, then there is no crime in faking it until you make it. People would get it and help you along.
The post for next week discusses getting back into workforce after a long period of absence. I'd also offer tips that formerlly incarcerated individuals could use as they prepare to start over their careers. So, catch you next week. As usual, your thoughts and contributions are valuable. Send some by hitting the comment button.
Happy Columbus Day!
Thanks for reading.
VL.
---
The perspectives of our community matter in media! It's about our voice,  and taking control of our narratives. Please join and support us!
Visit AfroGist Media channels  often for news updates. Access other thoughts and analyses here, reach out to post your commentaries, and feature your platform.  Watch shows, and participate in crucial conversations that concern us. Connect with the community.